Containerized Fire System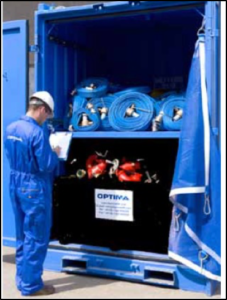 The Containerised Fire System (CFS) was specifically designed for low-to-medium rate well test flaring.
The package provides a portable flexible solution to heat radiation problems. The modular equipment allows for fast and simple installation to platform, rig or ship supply. Dividing breeches and clamping systems allow flexibility in routing and location of nozzle units.
Applications
Well Testing
Firefighting Support (Rig/Platform/Ship)
Onshore & Offshore Use
General Water Transfer
Protection to Safety Critical Equipment
Package can be made up from:
Water Monitors
Adjustable Jet Nozzles
Fire Hoses (20m, 15m, 10m, 5m Lengths Available),
Various Crossovers
Dividing Beeches.
Mobile Foam Trolley Units c/w Various Foam Products for General/Chemical/Methanol Fires/Applications
Heat Resistant Tarpaulins
Benefits
 Allows for Temporary Instalment in Hard to Reach Areas
Small Footprint
Cost Effective
Fully Adaptable for custom solutions
Fast and simple installation
Off-the-shelf rental available