« Back to Featured Articles
Solutions Customized for Customers Challenges
October 26th, 2015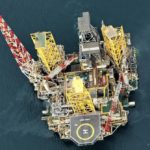 With over 1 trillion m3 of gas reserves, the "Shah Deniz 2" project is one of the largest gas developments in the world, BP's largest ever gas discovery, and will help to increase European energy security by bringing Caspian gas resources to markets in Europe for the very first time.
Challenge
With limited deck space for footprint of OPTIMA's standard rig cooling package, our engineers designed a new, single frame submersible pump (4x260kW) system, containing four electrical multi-stages, which provides the required full water head for the project without needing any additional pressure boost. New soft-start panels were also added. A fixed piping system was designed based on OPTIMA's industry-leading heat simulation software, which provides optimal nozzle placement for cooling.
Solution
OPTIMA's customized system was designed to exceed our clients' expectations by delivering solutions for their new requirements in terms of water flow, heat protection, backup systems, zoning, minimal deck space usage, fixed piping, and integration with the ESD system. Additional benefits to our clients included the elimination of submersible pump string assembly on deck, implementation of a press button system, and fully automatic, over-and under flow protection.