Air Compressors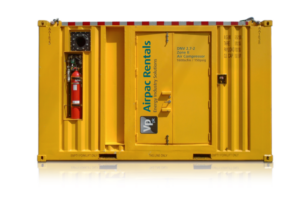 Through our alliance partner, Airpac Rentals, we can provide rental of Zone II and Rigsafe / Safe Area Air Compressors in a wide range of pressure ratings, suitable for onshore and offshore energy applications.
The Zone II range, for use in hazardous areas, is available for rental in four models and offers volumes of 11.3 m³/min (400scfm), 21.2m³/min (750scfm), 28.3m³ (1000scfm) and 45.3 m³/min (1600scfm).
The extensive and modern Rigsafe compressor fleet, ideal for use in safe areas, produces volumes of 175scfm through to 2100scfm and pressure variants from 7barg (100psig) to 12barg (174psig).
The extensive range of modern high-pressure compressors produce volumes of 26m³/min (950scfm) through to 54m³/min (1920 cfm) with working pressures up to 35barg (508psig). Airpac Rentals high-pressure compressors are suitable for applications such as pipeline dewatering and drying, UBD, air drilling and LNG process pipework and module testing.
Zone II or Rigsafe Joy / Atlas Booster Compressors pressures up to 345barg (5000psig), high-pressure primary compressors and Multi-Pressure Desiccant Dryers are currently supporting high profile LNG projects in Australia.